Error al actualizar software con NI Update Service
Software Primario:
Versión de Software Primario:
N/A
Versión de Software Primario Corregido:
N/A
Software Secundario:
N/A
Problema:
Cuando abro el NI Update Service se despliega un mensaje de: "Buscando por Nuevas Versiones". Sin embargo, NI Update Service permanece en dicho estado y nunca descarga o instala las actualizaciones. ¿Cuál puede ser la razón de este problema? ¿Cómo puedo obtener la actualizacion requerida?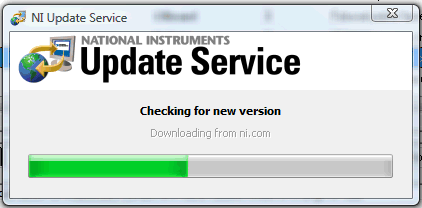 Solución:
Este es un problema conocido que impide la descarga de actualizaciones por parte de NI Update Service.
Para resolverlo, descarge e instale las actualizaciones deseadas desde el sitio Web de National Instruments en lugar de utilizar NI Update Service.
Usted puede encontrar la versión más reciente de NI Update Service en la siguiente liga: Drivers and Updates: NI Update Service
Ligas Relacionadas:
Knowledge Base 4KKEK7H0: Disabling NI Update Service
Knowledge Base 5C3CH9CZ: Why am I Unable to Update My Version of NI Update Service in Windows Vista or Windows 7?
Archivos Adjuntos:
Día del Reporte:
08/09/2010
Última Actualización:
12/31/2011
Identificación del Documento:
5C8FQ2CZ