¿Cómo Puedo Conectarme a un Controlador con LabVIEW Real - Time (RT) con un Cable Cruzado?
Software Primario:
LabVIEW Modules>>Real-Time Module
Versión de Software Primario:
8.5
Versión de Software Primario Corregido:
N/A
Software Secundario:
N/A
Hardware:
Controllers, PXI-8156B RT, PXI-8186 RT, PXI-8170 RT, PXI-8176 RT, PXI-8145 RT, PXI-8175 RT, PXI-8146 RT
Problema:
Estoy conectándome a través de un cable cruzado a un controlador con LabVIEW Real-Time (RT) desde una máquina con Windows, pero no soy capaz de comunicarme adecuadamente con el controlador. ¿Estoy configurando el sistema adecuadamente?
Solución:
Cuando se realiza una conexión directa a un controlador con LabVIEW Real-Time usando un cable cruzado CAT-5, usted debe primero deshabilitar DHCP en la PC huésped. Sin deshabilitar DHCP, usted podrá encontrar que la comunicación con el controlador no trabaja correctamente. Por ejemplo, el sistema puede fallar al aparecer en el Measurement & Automation Explorer (MAX), o el sistema puede fallar instalando software en el sistema.
Complete los siguientes pasos para deshabilitar DHCP en un huésped con Windows XP.
1.- Vaya a Start>>Control Panel
2.- Cambie a Classic View de ser necesario
3.- Seleccione Network Connections
4.- Haga clic derecho sobre Local Area Connection, y seleccione Properties
5.- Seleccione la etiqueta General y resalte Internet Protocol (TCP/IP). Haga clic en el botón Properties
6.- Sobre la etiqueta General, seleccione Use the following IP Address
7.- En este punto, usted puede introducir su propia dirección de IP y máscara de subred. Una configuración típica para PCs fijas son una dirección de IP "192.168.0.1" y una máscara de subred "255.255.255.0". Presione el botón OK y salga del panel Network control
8.- Reiniciar puede no ser necesario en Windows XP.
Si el controlador RT ha sido ya configurado con una IP estática, asegúrese de que la configuración del controlador sea consistente con la configuración de IP de la PC huésped. El huésped y el controlador RT necesitarán direcciones de IP únicas ya que se encuentran en la misma subred.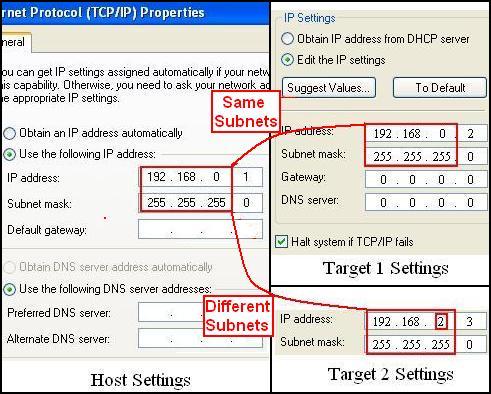 Para el ejemplo superior, la dirección de IP de 192.168.0.2 y una máscara de subred de 255.255.255.0 podrían estar en la misma subred. Si el controlador no ha sido aún configurado, usted puede también usar el botón Suggest Values en MAX para seleccionar una dirección de IP válida y una máscara de subred ahora que la PC huésped tiene una IP estática.
Ligas Relacionadas:
KnowledgeBase 2IHG7FZ8. Poor Network Performance in LabVIEW RT When Connected to Another Computer via a Crossover Cable
KnowledgeBase 1XGF6R4U. I Cannot Connect to My LabVIEW Real-Time Target on the Network
KnowledgeBase 2WTAMTPK. Measurement and Automation Explorer Does Not Auto-Discover my Real-Time System under Windows XP?
Archivos Adjuntos:
Día del Reporte:
03/21/2001
Última Actualización:
08/28/2009
Identificación del Documento:
27K9UNKN