웨이브폼 차트의 히스토리 길이를 프로그램적으로 어떻게 바꿀수 있습니까?
주요한 소프트웨어:
주요한 소프트웨어 버전:
1.0
문제가 해결된 소프트웨어 버전:
N/A
부차적인 소프트웨어:
N/A
문제점:
웨이브폼 차트의 히스토리 길이를 프로그램적으로 어떻게 바꿀수 있습니까?
솔루션:
프로그램 실행 전에 수동적 방법으로 직접 웨이브폼 차트 히스토리의 길이를 증가시킬수는 있지만, 실질적으로 프로그램적으로 웨이브폼 차트 히스토리의 길이를 증가시킬 수 있는 방법은 없습니다. 그 이유는 프로그램이 실행되면 LabVIEW는 차트를 위한 메모리를 할당하고, 한번 프로그램이 실행된 후에 추가적으로 메모리를 할당할 수 있는 방법이 없기 때문입니다.
그렇지만, 확인가능한 히스토리 길이를 변경할 수는 있습니다. 이미 설정된 최대 히스토리 길이 내에서 보일 수 있는 히스토리 길이 조정이 가능합니다.
이를 위해 웨이브폼 차트의 두 개에 프로퍼티 노드가 있습니다. X 스케일»범위»최대값 , X 스케일»범위»최소값을 이용해서 웨이브폼 차트의 x축에 디스플레이 되는 값을 조절할 수 있습니다. X축은 차트 히스토리에 원소의 인덱스를 나타냅니다. 이 두가지 프로퍼티를 사용해서 차트에 현재 표시되는 값을 변경할 수 있습니다. 표시되는 값을 계산하기 위해서 먼저 가장 최근에 수집한 원소 인덱스를 최대 값으로 설정하고, 보고싶은 길이 만큼을 이 값에서 뺀 인덱스를 최소값으로 설정하시면 됩니다. 이 방법에 대한 예제 VI를 아래 첨부 파일에 추가하여 놓았습니다.
Note: 이것은 디스플레이되는 데이터만 변경이되고, 실질적으로 웨이브폼 차트 버퍼에 저장되는 내용을 변경하지는 않습니다.

이 방법이 아닌 실질적으로 웨이브폼 차트 히스토리의 버퍼 길이를 변경하기 위해서는 프로그램 시작 전에 변경해주어야 합니다. 하는 방법은 프런트 패널의 차트를 마우스 우 클릭한 후에 차트 히스토리 길이를 클릭합니다. 이렇게 하면 차트 히스토리 길이 윈도우가 팝업되어 뜨는데 원하는 차트 버퍼의 크기를 입력하여 주면 됩니다.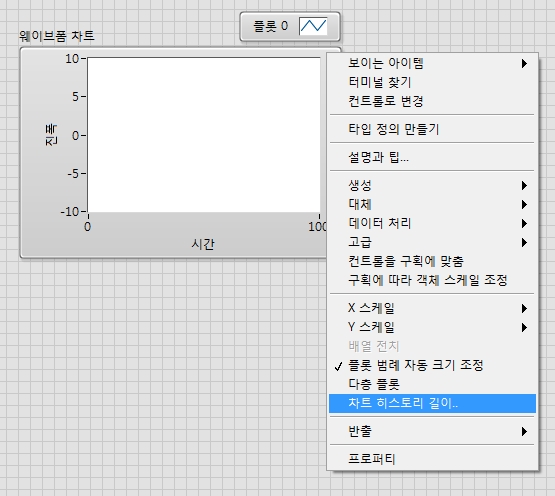 관련 링크:
KnowledgeBase 0HLH2GTA: What Is the Difference between Graphs and Charts in LabVIEW?
KnowledgeBase 3YCBGD0E: What Does the Waveform Chart History Mean?
첨부:
- chart_history.vi

- chart_history.vi

리포트 날짜:
10/27/2004
마지막 업데이트:
11/30/2014
문서 번호:
3EQCAC3U