¿Por Qué Obtengo el Error "Missing Distribution" Cuando Intento Crear un Instalador en LabVIEW 8.0?
Software Primario:
Versión de Software Primario:
8.0
Versión de Software Primario Corregido:
N/A
Software Secundario:
N/A
Problema:
Intento crear un instalador desde LabVIEW 8.0 que incluya instaladores adicionales, como por ejemplo el driver NI-DAQmx 8.0. Sin embargo, obtengo un error que dice que LabVIEW no fue capaz de localizar algún software de distribución, como Measurement Studio, y por lo tanto fue incapaz de crear el instalador. Mi aplicación no tiene nada que ver con el "software de distribución" que el diálogo menciona. ¿Por qué me aparece ese diálogo?
Solución:
Cuando usted crea un instalador de una aplicación que ha desarrollado, tiene la opción de incluir instaladores adicionales que son necesarios para ejecutar su aplicación, como el Run Time Engine de LabVIEW o NI-DAQmx. Si selecciona agregar instaladores adicionales (en "Additional Installer" en Propiedades de Instalador, ver imagen abajo) al instalador que está creando, todos los componentes que esos instaladores adicionales requieren son necesarios. Por ejemplo, al incluir NI-DAQmx 8.0 se requiere el Measurement and Automation Explorer (MAX).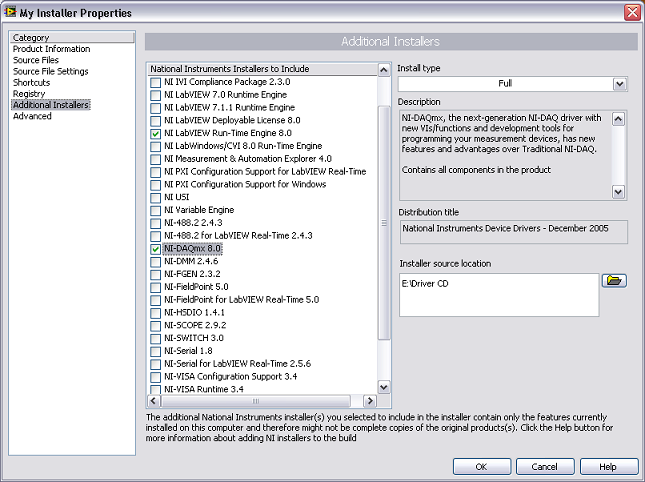 LabVIEW conoce las dependencias de los "Instaladores Adicionales" y automáticamente las incluye con los instaladores adicionales (MAX automáticamente será incluido con NI-DAQmx). Cuando comienza la creación, LabVIEW buscará la fuente ORIGINAL de los instaladores (usualmente en los CDs que fueron enviados con el software, por lo que la referencia a esos instaladores será el CD-ROM, ver imagen abajo) cada vez que se intenta crear el instalador. (Nota: Para evitar que el diálogo que pregunta por la localización del instalador aparezca cada vez que se crea un instalador, puede copiar el contenido de los CDs al disco duro. Posteriormente en la página de "Aditional Installers" de Propiedades de Instalador, modifique el "Installer Source Location" a donde se copiaron los contenidos del CD. Sin embargo, aun cuando haya especificado una nueva dirección al disco duro, es posible que pregunte por otros CDs de instalación.)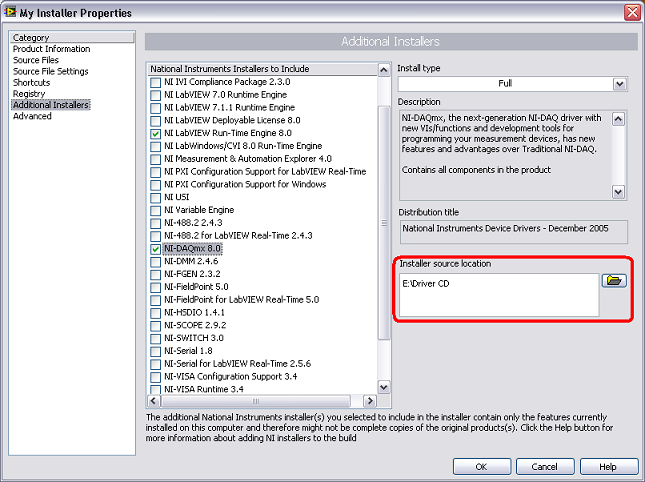 Algunas de las dependencias compartidas de los instaladores pueden tener una nueva versión instalada por otro producto de NI y ese producto será requerido para poder crear el instalador.
Por ejemplo, si instala NI-DAQmx 8.0, el cual instala MAX 4.0. Como resultado MAX 4.0 será instalado en su computadora.
Pero dos meses después usted decide instalar Measurement Studio 8.0, el cual instala una versión más nueva de MAX (4.1) y sobrescribe la versión previa de MAX (4.0) (nota: los números de versión de MAX son solamente un ejemplo, no reflejan las verdaderas revisiones enviadas con los diferentes productos). Ahora, NI-DAQmx 8.0 depende de Measurement Studio y cuando usted crea un instalador que incluye NI-DAQmx 8.0 necesitará una copia del instalador de Measurement Studio de la distribución con la cual se instaló. Por tanto, aunque no está directamente incluyendo Measurement Studio, esta incluyendo una dependencia compartida que ha sido actualizada, y el Application Builder requiere copiar el instalador de esa dependencia.
De nuevo, es importante notar que la "distribución" de software se refiere al software encontrado en los CDs de instalación, NO se refiere al software que se encuentra instalado en la computadora (ver mensaje abajo).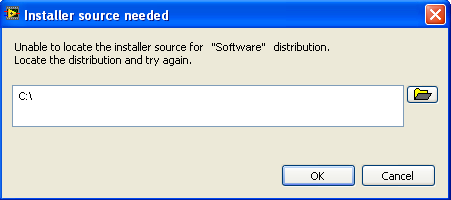 En otras palabras, cuando aparezca el mensaje preguntando por "DAQmx 8.0 distribution", direccionar el instalador a C:\Program Files\National Instruments\NI-DAQ no funcionará. Requerirá insertar los CDs de Drivers en el CD-ROM y direccionar ahí el instalador, o copiar el contenido completo de los CDs al disco duro y direccionar a esa dirección el instalador.
Ligas Relacionadas:
KnowledgeBase [3TCBS9MY]: How Do I Stop the "Missing Distribution" Notification Each Time I Build An Installer?

Archivos Adjuntos:
- installer source.bmp

- Stage2.bmp

- Stage1.bmp

- installer location.bmp

- additional Installers.bmp
- daqmx_to_max.PNG

- daqmx_and_ms.PNG

- daqmx_and_ms.JPG

Día del Reporte:
12/09/2005
Última Actualización:
01/29/2008
Identificación del Documento:
3S88PJMY