¿Cúal Tarjeta DAQ Puede Utilizar la Propiedad "Data Transfer Custom Threshold"?
Hardware:
Modular Instruments>>Dynamic Signal Acquisition and Analysis (DSA), Multifunction DAQ (MIO)>>S Series>>PCI-6143
Problema:
Estoy obteniendo el error: Error -20077 cuando utilizo la propiedad "Data Transfer Custom Threshold" con mi tarjeta DAQ.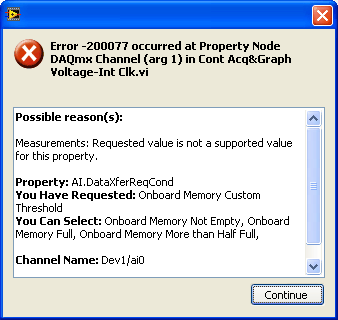 Solución:
Esta propiedad puede encontrarse en: DAQmx Channel Property Node»Analog Input»General Properties»Advanced»Data Transfer and Memory»Data Transfer Request Condition.

Los dispositivos de adquisición de datos que soportan esta propiedad son: PCI/PXI 6143, 6154 y todas las tarjetas DSA.
Ligas Relacionadas:
KnowledgeBase 3HKCTTTY: Data Transfer Request Condition for Continuous Analog Output using NI-DAQmx
Archivos Adjuntos:
- error message.gif
Día del Reporte:
12/28/2005
Última Actualización:
01/06/2010
Identificación del Documento:
3SRGHJOR