Uso de Dos Monitores con Conexión DVI en un Controlador PXI
Hardware:
PXI/CompactPCI>>Controllers
Problema:
¿La conexión DVI de mi controlador embebido es compatible con dos monitores?, Si lo es ¿Cómo se puede lograr esto?

Solución:
La conexión Digital Visual Interface (DVI) del controlador embebido es compatible con el uso de dos monitores. Puede utilizar un adaptador para enviar la señal a un monitor DVI, tal como de un monitor VGA para computadoras de escritorio compartidas o extendidas. Para configurar escritorios dobles, puede utilizar las Propiedades de Pantalla en Windows XP y 2000, o la Configuración de Pantalla en Windows Vista o la Herramienta de Intel Extreme Graphics.

La conexión DVI tiene muchas aplicaciones y utiliza algunos de los siguientes tres conectores:

DVI-D (Solo digital)
DVI-A (Solo analógico)
DVI-I (Integración de analógico y digital)

Conector DVI-I
La aplicación más popular es del enlace simple y doble del DVI-I. El DVI-I incluye los pines para señales analógicas encontradas en un conector VGA, y también pines para las señales digitales en un solo conector. El conector simple DVI utiliza un solo transmisor, mientras que el doble utiliza dos transmisores para incrementar el poder de transmisión e improvisar la calidad de la señal, la cual es necesaria para utilizar pantallas más grandes. Un solo enlace de conexión es compatible con una resolución de 1920 x 1200, mientras que el enlace doble es compatible con una resolución de 2560 x 1600.
La conexión DVI-I en los controladores PXI utiliza una conexión DVI-I (Enlace simple) y el conjunto de chips gráficos es compatible con dos pantallas en modo compartido o extendido utilizando DVI-I al adaptador DVI-D/VGA. El adaptador DVI-I permite conectar al controlador PXI un monitor DVI y otro VGA.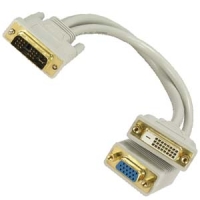 Conector DVI-I
Si su aplicación requiere más de dos pantallas, una tarjeta de video PCI de otra compañía puede ser agregada al chasis PXI, sin embargo puede haber problemas de compatibilidad y National Instruments no ofrece pruebas ni soporte en más de dos monitores. Consulte la publicación adjunta sobre el uso de más de dos monitores.
Nota
: NI ofrece un cable probado con los controladores PXI. El número de parte de este adaptador es 780868-01.
Si tiene problemas para configurar varios monitores, trate de solucionar el problema con los siguientes pasos:
PXI-8105/8106

Actualice los controladores del chip Intel 950 a la versión más nueva, v1.3.3 para PXI-8106 y PXI-8105. Las versiones anteriores del controlador solo permitirán utilizar un solo monitor a la vez.


Nota: El chip Intel 950 GMA (Graphics Media Accelerator) es el núcleo de gráficos dentro de 945 GMCH que ejecutan los gráficos.


Si únicamente el monitor VGA está trabajando, asegúrese que el DDC Routing está colocado correctamente en el BIOs. Para hacer esto, diríjase a Advanced»Integrated Peripherals»Monitor DDC. Verifique que Monitor DDC está configurado a DVI. Los monitores analógicos trabajaran cuando el DDC Routing este configurado como DVI y CRT, de cualquier manera los monitores DVI no fucionaran cuando el DDC Routing está configurado como CRT.


PXIe-8130

El PXIe-8130 por predeterminación del fabricante, debe permitir utilizar monitores extendidos a través del adaptador DVI-I. Con el actual BIOS disponible v1.3, no hay configuración disponible para deshabilitar esta configuración.


Verifique que todos los monitores trabajan por separado, específicamente el monitor utilizando el puerto DVI. El cambiar las conexiones a otros monitores puede requerir reiniciar el sistema, para poder habilitar las líneas de salida.


Ligas Relacionadas:
KnowledgeBase 2J0AQFUK: How Do I Use Multiple Monitors with a PXI System with VGA Connection?
Product Manuals: NI-PXI 8106 User Manual
Archivos Adjuntos:
- DVI_I_connector_150dpi.gif

- ATTCSJWR

Día del Reporte:
05/08/2007
Última Actualización:
05/29/2009
Identificación del Documento:
497ERQ7N