cRIO에 소음 및 진동 툴킷이 포함된 어플리케이션을 배포할 때 발생하는 에러
하드웨어:
CompactRIO>>Controllers>>cRIO-9012
문제점:
오더 분석을 위한 어플리케이션을 개발하여, 이를 타겟에 배포할 때 다음과 같은 에러가 발생합니다: Failed to Download OAT Frequency Shift (Mixer).vi or LabVIEW:Failed to load shared Library Order.Out: OatFreqShiftH:E on ET target device.
솔루션:
이러한 에러는 타겟에 소음 및 진동 툴킷이 설치되지 않았기 때문에 발생합니다. 이 에러를 해결하기 위해서는, 우선 MAX (Measurement & Automation Explorer)를 실행하고 Remote Systems의 섹션에서 해당 타겟의 +를 누릅니다. Software Tab에서 마우스 오른쪽 버튼을 클릭하여 Add/Remove Software를 선택합니다. 타겟에 설치가능한 소프트웨어 내역 중에서 소음 및 진동 툴킷이 포함되어 있는지 확인하고 설치를 진행합니다.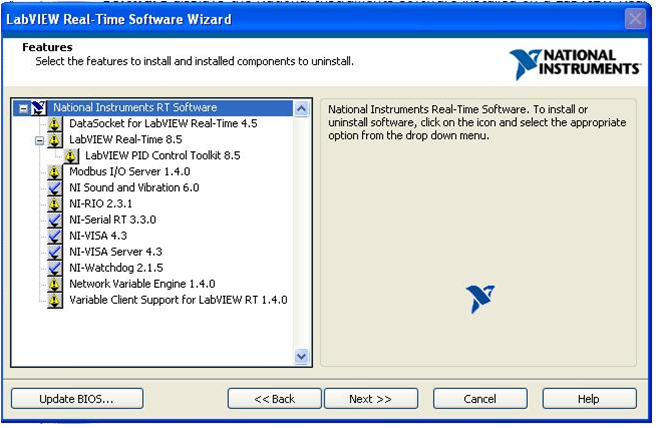 타겟에 소음 및 진동 소프트웨어를 설치한 뒤, 어플리케이션을 다시 배포하시기 바랍니다. 더이상 에러는 나타나지 않을 것입니다.
관련 링크:
DeveloperZone Tutorial: 10 Questions to Ask When Selecting Your Sound and Vibration Measurement System
DeveloperZone Tutorial: Sound and Vibration Measurements: How-To Guide
LabVIEW Help: LabVIEW Toolkits Overview
Product Manual: Sound and Vibration VIs
첨부:
리포트 날짜:
05/26/2008
마지막 업데이트:
03/05/2015
문서 번호:
4LPD53YN