El Error -1950679022 Ocurre Cuando Intento Usar Variables Compartidas
Software Primario:
Versión de Software Primario:
1.0
Versión de Software Primario Corregido:
N/A
Software Secundario:
N/A
Problema:
Cuando corro mi VI o mi ejecutable, se detiene y regresa el mensaje:
Error -1950679022: The process was not found or is not responding.
Esot pasa cuando intento implantar una biblioteca programáticamente. ¿Qué significa este error y cómo lo arreglo?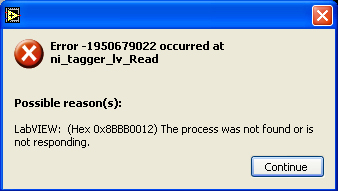 Solución:
Este error ocurre cuando se intenta implantar programáticamente una biblioteca que contiene variables compartidas que están ligadas a un recurso que no se puede encontrar. La causa más común de este problema es que el corta fuegos se encuentra bloqueando la comunicación entre PCs. Este error no aparecerá si las variables no están implantadas en la PC anfitrión, sino que aparecerá si la PC anfitrión no es visible a través de su dirección de red.
Abra el proyecto de LabVIEW y de doble clic a la variable compartida en el explorador de proyecto para volver a ligar la fuente. De clic en el botón "Browse" y seleccione "Network Item" de la lista que se despliega. Encuentre la variable listada bajo la PC apropiada y de clic en OK. Para ligar la variable a otra PC es necesario primero implantarla en esa PC. Si la segunda PC no aparece, asegúrese de que el corta fuegos no esté bloqueando la comunicación y que las dos PCs son capaces de hacer ping una a la otra.
Ligas Relacionadas:
Using the LabVIEW Shared Variable
What Ports Do I Need to Open on My Firewall for National Instruments Software Products?
Archivos Adjuntos:
- error code.jpg

Día del Reporte:
11/30/2006
Última Actualización:
05/20/2009
Identificación del Documento:
43T1S7BE