워치독 타이머란?
하드웨어:
Multifunction DAQ (MIO)
문제점:
워치독 타이머란 무엇이며, 어떻게 동작합니까?
솔루션:
일반적으로 제어시스템은 불필요한 반복 또는 제어 실패를 방지하는 메커니즘을 필요로 합니다. 시스템 중 일부가 예상치 못한 제어 실패를 일으켰을 때, 제어 실패 방지 메커니즘은 시스템을 안전모드로 전환시킵니다. 워치독 타이머는 이와 같은 안전 메커니즘을 제공합니다.
워치독 타이머 사용에 추천되는 제품:

Note: 각 디바이스가 워치독 타이머를 제공하는지 데이터시트를 반드시 확인하시기 바랍니다.
워치독 타이머는 어떻게 동작합니까?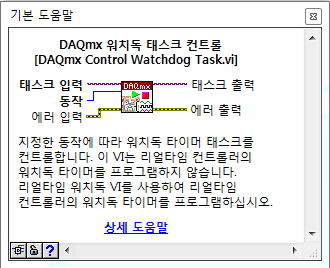 워치독 타이머는 컴퓨터가 적절히 동작하는지 또는 디바이스가 네트워크에 잘 연결되어있는지 끊임없이 확인함으로써 동작합니다. 만약 프로그램으로 설정된 시간제한 내에 확인 동작에 대한 응답을 받지 못하면 워치독 타이머는 안전모드를 출력하게 됩니다. 일단 워치독 타이머가 설정되고 시작되고 나면 소프트웨어 어플리케이션은 타이머가 만료되는 것을 방지하기 위해 반복적으로 리셋되어야 합니다. 이 리셋은 컴퓨터가 제대로 동작하는지 확인하는 역할을 하며, DAQmx 워치독 태스크 컨트롤 VI에 의해 작업이 이루어집니다.
만약 컴퓨터 고장과 같은 문제가 발생한다면 하드웨어는 워치독 타이머가 만료될 때까지 기다릴 것입니다. 워치독 카운터가 만료되면, 워치독 카운터는 미리 정의된 안전 상태를 출력하며 예정되었던 모든 출력들은 무시됩니다. 다시 디바이스가 하드웨어 명령에 응답하게 하려면 워치독 타이머의 만료상태를 풀어주어야 합니다. 보통 만료 상태를 푸는 동작은 DAQmx 워치독 태스크 컨트롤 VI에 의해 수행됩니다. X시리즈 DAQ카드 또는 산업용 디지털 I/O을 사용하는 경우, DAQmx 워치독 태스크 컨트롤 VI과 디바이스 리셋의 두 가지 방법으로 워치독 타이머 만료를 해제할 수 있습니다. 반면 cDAQ-9188XT를 사용하는 경우에는 오직 디바이스 리셋만 만료를 해제할 수 있습니다.

NI-DAQmx API에서 워치독 타이머를 사용하는 것에 대한 더 자세한 정보는 아래 링크된 기술백서를 참고하시기 바랍니다.
관련 링크:
NI Industrial Digital I/O Products
NI X Series Multifunction DAQ Products
White Paper: How to use and implement the watchdog timer with DAQmx
Developer Zone Example: Using a Watchdog Timer to Disable Critical Systems During a Software Failure
Developer Zone Tutorial: Complete Industrial Digital I/O and Counter/Timer Tutorial
KnowledgeBase 17F9KN8U: FieldPoint Watchdog Timer Questions
KnowledgeBase 1RFG7N7L: How Does a Watchdog Help the Stability of a Microprocessor Application?
KnowledgeBase 290KHBYF: Can I Use the Watchdog Examples with the Lab-PC-1200?
첨부:
리포트 날짜:
04/02/2004
마지막 업데이트:
11/11/2014
문서 번호:
381BTBCH