Me Aparece el Mensaje de Error: "File is Not A Resource: The File is Not A Valid LabVIEW File"
Software Primario:
Versión de Software Primario:
8.2
Versión de Software Primario Corregido:
N/A
Software Secundario:
LabVIEW Development Systems>>LabVIEW Full Development System
Problema:
¿Por qué obtengo el siguiente mensaje de error cuando abro mi VI en LabVIEW o corro un ejecutable (*.exe)?
LabVIEW: File is not a resource file. The file 'xxxxx.VI' is not a valid LabVIEW file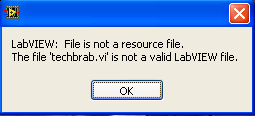 Solución:
En el caso de un VI:
Si LabVIEW se cierra al tratar de abrir el VI éste se corrompió.
Desafortunadamente no existe ninguna manera de recuperar el VI o extraer partes de la programación del archivo. La única solución es iniciar con un VI en blanco y reprogramar el VI.
En el caso de un ejecutable (*.exe):
Esto puede ser causado en un archivo *.exe si cualquiera de los archivos dentro de él no tenga una extensión. Por lo general este comportamiento sucede por VIs sin la extensión *.vi. Verifique que todos sus archivos tengan las extensiones adecuadas y construya de nuevo el ejecutable.
Ligas Relacionadas:
LabVIEW 2010 Help: LabVIEW File Extensions
Archivos Adjuntos:
- LVError.bmp
Día del Reporte:
10/24/2006
Última Actualización:
12/30/2011
Identificación del Documento:
42NF3QAC