¿Dónde se Encuentra la Información del Campo "Intaller Source Location" Cuando Construyo un Instalador?
Software Primario:
Versión de Software Primario:
8.2.1
Versión de Software Primario Corregido:
N/A
Software Secundario:
N/A
Problema:
¿Dónde se encuentra la información referente a Installer Source Location de la pestaña Additional Installers dentro de las propiedades de un nuevo instalador en LabVIEW?
Solución:
Cuando se selecciona National Instruments Installers to Include, el campo Installer Source location de la pestaña Additional Installers se completa con la ruta del archivo que realizó la última actualización del software correspondiente.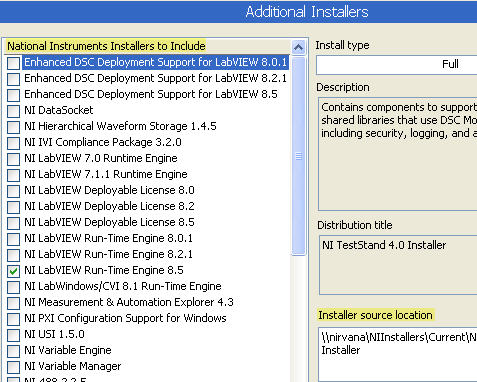 Esta ubicación puede ser inesperada algunas veces debido al hecho de que varios de estos archivos de soporte son instalados con diversos softwares de National Instruments. Por ejemplo, el módulo de Real-Time a menudo tiene referencia a NI-VISA, NI-Serial, NI Measurement & Automation Explorer y NI Variable Engine. Esto se debe a que estos archivos se actualizan después de la instalación del módulo Real-Time.
Ligas Relacionadas:
KnowledgeBase 16BB9RJV: What Additional Files Are Required with an Executable Created with the LabVIEW Application Builder?
Developer Zone Tutorial: Distributing Applications with the LabVIEW Application Builder
Archivos Adjuntos:
Día del Reporte:
10/25/2006
Última Actualización:
11/16/2011
Identificación del Documento:
42OMBUQP