为什么我在读取二进制文件过程中,会产生Error 116的错误?
主要软件:
主要软件版本:
7.1
主要软件修正版本:
7.1
次要软件:
N/A
问题:
我想读取二进制文件,但我收到一个错误消息指示错误116发生在读取二进制文件。为什么会这样?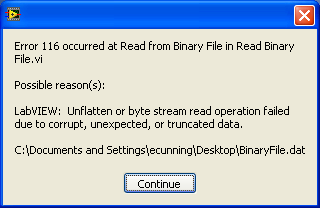 解答:
有几个原因,这可能会发生: 1.你输入错误的数据类型。如果想要正确的读到二进制文件请确保数据类型输入匹配的数据类型。

注意:即使你读1 d和2 d数组的doubles类型,只有连接一个标量到数据类型。二进制文件读取VI将返回一个一维数组的double类型数据。
2.你试图从二进制文件读取一个簇的多个数据类型。当读写簇数据类型,使用Datalog VI,它是专门为这个目的设计的。这些VI可以保存数据为二进制数据。
3.你试图修改二进制文件通过文本编辑器。请您需找之前未修改的二进制文件版本。
相关链接:
LabVIEW Help: Reading from Binary Files
LabVIEW Help: Writing to Binary Files
Community Example: Creating and Reading Binary Files for 2D Arrays in LabVIEW
KnowledgeBase 2UH9ESIP: When Reading from a Binary File in LabVIEW, Why Do I Receive an Empty Array of Data or Error 1?
KnowledgeBase 2N1DMKM5: How Can I Write and Read Binary Files Using LabVIEW?
KnowledgeBase 10U39NAQ: Writing Binary Files with LabVIEW That Can Be Read by Other Applications.
附件:
报告日期:
08/13/2008
最近更新:
01/03/2015
文档编号:
4OCG971D