¿Cómo Puedo Compartir Datos Almacenados en una File Global entre Ejecuciones Diferentes?
Software Primario:
TestStand
Versión de Software Primario:
4.2.1
Versión de Software Primario Corregido:
N/A
Software Secundario:
N/A
Problema:
¿Cómo comparto datos almacenados en una File Global entre ejecuciones diferentes? Por ejemplo, si una utilizaba en Batch Process Model y estaba escribiendo a una File Global, cómo puedo accesar los datos escritos en la File Global desde todos los test sockets?
Solución:
En el Sequence Editor de TestStand, con su archivo de secuencia abrierto, seleccione
Edit»Sequence File Properties
desde la barra de herramientas. En la ventana de Propiedades, seleccione la opción
All Executions Share the Same File Globals
del control de tipo ring titulado Sequence File Globals. Presione
OK
para registrar el cambio.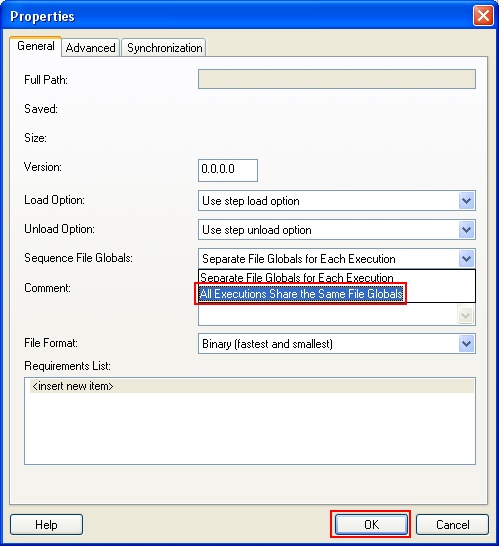 Esto evitará que se cree una copia de las File Globals para cada ejecución.
Nota: Esta operación incrementará el alcance de las File Globals a todos las ejecuciones, y puede resultar en una condición de carrera. Si desea compartir datos entre ejecuciones sin que sus File Globals sean propensas a condiciones de carrera, considere el uso de colas o notificaciones.
Ligas Relacionadas:
KnowledgeBase 4ZEF7H1V: Why Don't my File Globals Share Information Between UUTs in the Batch Model?
KnowledgeBase 2WLEUU6E: How Can I Programmatically Create Sequence File Globals?
Archivos Adjuntos:
pic2.jpg
Día del Reporte:
05/30/2001
Última Actualización:
06/29/2013
Identificación del Documento:
29TEE5IJ