¿Cómo puedo incluir My Station Globals, Serch Directories, Tools Menu, etc. en mi distribución cuando utilizo TestStand Deployment Utility?
Software Primario:
Versión de Software Primario:
4.0
Versión de Software Primario Corregido:
N/A
Software Secundario:
N/A
Problema:
Estoy creando una distribución de TestStand utilizando el TestStand Deployment Utility. Me gustaría incluir componentes como Station Globals, Search Directories o Tools Menu list en la distribución. ¿Se incluyen estos si selecciono TestStand engine como parte de la instalación?
Solución:
Station Globals, Search Directories y Tools Menu list configuration son guardados en archivos .INI en el directorio de TestStand cfg, el cual se encuentra en <TestStand Application Data>\ Cfg para TestStand 4.1 y superior o <TestStand>\Cfg para TestStand 4.0 y anteriores. Especificamente Station Globals se almacenan en el archivo StationGlobals.ini, Search Directories en el archivo TestExec.ini y Tools Menu list configuration en el archivo ToolMenu.ini. Es posible que desee considerar incluir éstos y otros archivos INI en el folder de la distribución. Para más información acerca de los archivos adicionales INI, consulte la sección de enlaces relacionados.
Por defecto, los archivos del directorio de TestStand cfg no están incluidos en la distribuci&oatue;n de TestStand. A fin de garantizar que estos archivos de configuración se incluyen en la implementación debe incluir éstos archivos INI en su espacio de trabajo, después seleccionarlos en la pestaña Distributed Files de TestStand Deployment Utility.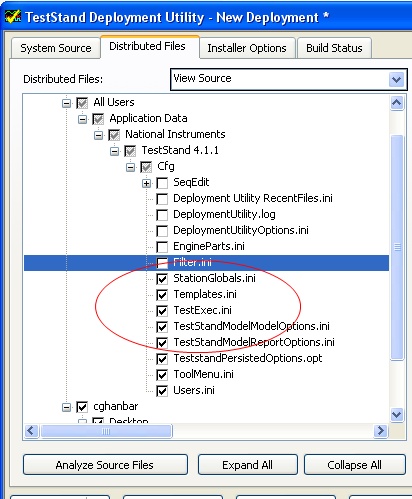 Nota: De nuevo, StationGlobals.ini y otros archivos INI localizados en el directorio TestStand Cfg no serán automáticamente incluidos con tan sólo marcar la opción Deploy Files in TestStand Public Directories. Aún si esta opción es marcada, debe incluir los archivos INI deseados en su propio espacio de trabajo y desplegar normalmente.

Ligas Relacionadas:

Developer Zone Tutorial: NI TestStand Shared Drive Deployment Reference Architecture
KnowledgeBase 2QED4TVW: How Do I Save the TestStand Station Globals to Disk?


Archivos Adjuntos:





Día del Reporte:
04/22/2006
Última Actualización:
12/19/2011
Identificación del Documento:
3WLI47YV