Veo un Error en MAX Cuando Exporto o Importo las Opciones de NI-Serial o NI-VISA
Hardware:
PXI/CompactPCI>>Controllers
Problema:
Estoy utilizando una PC con Windows Vista 64-bit, y cuando intento exportar o importar la configuración de dispositivos de NI-Serial o NI-VISA desde mi objetivo remoto en MAX, obtengo el siguiente mensaje.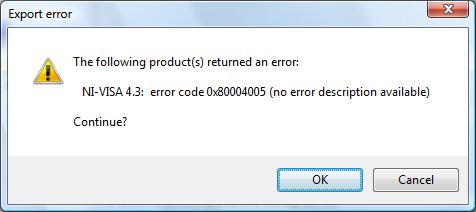 Solución:
Este es un problema conocido con NI-VISA 4.3. Actualizar a NI-VISA 4.4 corrije el problema. NI-VISA 4.4 estará disponible en los Controladores de Agosto del 2008 y en la red en Julio de 2008 en la liga
NI-VISA section of Drivers and Updates
.
Ligas Relacionadas:
NI-VISA section of Drivers and Updates
Archivos Adjuntos:
Día del Reporte:
06/26/2008
Última Actualización:
12/01/2009
Identificación del Documento:
4MPAGRQA