Utilizando el NI 5663 Con un Oscilador Local Externo (LO)
Hardware:
PXI/CompactPCI>>Controllers
Problema:
Quisiera utilizar el Analizador de Señales Vectoriales NI 5663 con un oscilador externo (LO) en lugar del NI 5662. ¿Cómo configuro el controlador NI-RFSA para utilizar esta propiedad con el Convertidor de Frecuencias Hacia Abajo NI 5601?
Solución:
El NI 5663 consiste de tres módulos incluyendo el Convertidor de Frecuencias Hacia Abajo NI 5601, Digitalizador IF NI 5622 y el Generador de Señales RF NI 5652. Existen aplicaciones donde se requiere utilizar el oscilador local de un Generador de Señales de RF de otro fabricante. En este caso, se deben realizar los siguientes cambios:
1.
En el Measurement & Automation Explorer (MAX), hacer clic derecho bajo
Devices and Interfaces»NI-DAQmx Devices
y hacer clic en Properties para abrir la ventana Device Properties. En esta ventana especificar la fuente del oscilador local (LO) como External.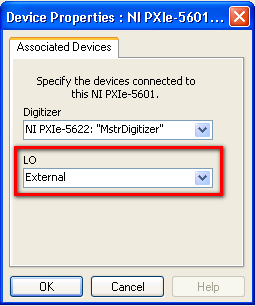 2.
En LabVIEW, también tendrá que especificarle al controlador que va a utilizar un oscilador local externo inicializando el dispositivo NI 5601 con el VI niRFSA Initialize with Options VI utilizando la siguiente cadena de caracteres:

DriverSetup=LO:<external>.

Ligas Relacionadas:
Archivos Adjuntos:
Día del Reporte:
02/26/2009
Última Actualización:
04/24/2009
Identificación del Documento:
4UPI7TJQ