Error al Abrir el NI Example Finder: el NI HelpServer no Pudo Ser Encontrado.
Hardware:
PXI/CompactPCI>>Controllers
Problema:
Estoy tratando de ingresar a los ejemplos de LabVIEW dirigiéndome a
Help » Find Examples
, pero obtengo un error:
Could not find LabVIEW service port from ServiceLocator. You will not be able to browse by Directory Structure.


¿Cómo soluciono esto?
Solución:
Cuando LabVIEW inicia y ejecuta un servicio llamado
Help Server
. Este abre los puertos TCP/IP para comunicarse con otras aplicaciones de NI, en este caso l NI Example Finder. Algunas veces, los puertos que estas aplicaciones ingresan son usados por otras aplicaciones y por lo tanto usted obtiene los errores mostrados debajo: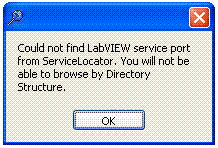 El error es recibido cuando usted da click en Help » Find Examples



Este error se obtiene cuando usted trata de abrir un ejemplo del Example Finder

Para arreglar este problema, usted debe reiniciar el HelpServer. Hay algunos pasos para hacer esto:
Diríjase a C:\Program Files\National Instruments\LabVIEW x.x\resource\system
Dar doble click en HelpServer.llb
Abrir Set HelpServer Config Settings__NATIONAL INSTRUMENTS.vi
De click en el botón boleano Enable Help Server? para cambiar su estado a verdadero.

Ejecutar el VI una sola vez.
Cerrar el VI
Ahora el Example Finder debe trabajar bien.
Usted también puede reiniciar el HelpServer siguiendo los siguientes pasos:
Diríjase a C:\WINDOWS\system32\
De doble click en nisvcloc.exe
Esto inicia el servicio del NI Service Locater

Para los siguientes pasos debe asegurarse que el Service Locater esta siendo ejecutado cada vez que usted inicia Windows:


Diríjase a Start » Program Files » Startup
De click derecho en el menú y seleccione Create Shortcut
Siga los siguientes pasos para crear un shortcut en C:\WINDOWS\system32\nisvcloc.exe
Ésto asegura que el servicio se ejecuta cada vez que usted inicia Windows
Si los pasos anteriores no solucionaron el problema, siga los siguientes pasos para cambiar el puerto utilizado por el Help Server:
Diríjase a C:\Program Files\National Instruments\LabVIEW x.x\resource\system
De doble click en HelpServer.llb
Abra el HelpServer__NATIONAL INSTRUMENTS.vi
Ahora, usted puede ver el puerto que está utilizando el HelpServer. El truco es cambiar el puerto. Usted puede hacer esto al detener y ejecutar el VI muchas veces.
Presione el botón stop para ver la luz de 'Registered?' apagarse. Ahora ejecute el VI y verá como se enciende.

En su última ejecución, cierre el VI sin detenerlo.
Ahora el Example Finder trabajara bien.
Nota:
Este comportamiento ocurre en LabVIEW 7.0, 7.1, 8.0 y 8.20
Ligas Relacionadas:
Archivos Adjuntos:
- KB.GIF

- KB1.GIF
Día del Reporte:
05/10/2005
Última Actualización:
03/19/2009
Identificación del Documento:
3L9CQ46K