¿Porque recibo el error 32812 de algunos módulos de Fieldpoint no de otros?
Hardware:
FieldPoint
Problema:
Puedo hacer lectura o escritorio a la mayoría de mis módulos de Fieldpoint. Pero ciertos módulos me regresan el error 32812. ¿A qué se debe esto?
Solución:
Antecedentes:
En el
Measurement & Automation Explorer

C:\Program Files\National Instruments\FieldPoint\MIS\
Debido a esto existe un archivo MIS para cada tipo de módulo de Fieldpoint que National Intruments Fabrica. Este archivo MIS contiene la información general que describe al módulo como el número y tipo de canales. Este archivo no contiene ninguna información de configuración, la configuración especifica que almacena en el archivo IAK.
Cuando usted presiona "Find Devices" en su Fieldpoint (bajo
Remote Systems
), el driver de Fieldpoint descarga la información de cada modulo y los registra en el sistea operativo. Esta información es guardada como un archivo MIS en el siguiente directorio:
C:\Program Files\National Instruments\FieldPoint\MIS\
Una vez que está registrado MAX utiliza esta información para trabajar en lugar de estarla descargando cada vez que la necesite.
Cuando instala los drivers de Fieldpoint, los archivos MIS de la mayoría de los módulos se instalan. Pero si un módulo es liberado después de la versión del driver actual, el archivo no se va a encontrar en su computadora por lo que es necesario que los descargue mediante "Find Devices".
Si por algún motivo el archivo MIS no está registrado en el sistema operativo o no existe. Cuando quiera leer el modulo obtendrá el error 32812. Por ejemplo, tiene un programa en su computadora de desarrollo que puede leer sin problema las entradas de un moódulo FP-AI-112 . Este programa lo lleva a otra computadora y también lleva su archivo IAK, carga el IAK en MAX, pero al momento de ejecutar el programa recibe el error 32812. Esto se debe a que el modulo FP-AI-12 no está pre-instalado ni registrado en FieldPoint 4.1, por lo que MAX (y LabVIEW) no sabe que es un FP-AI-112.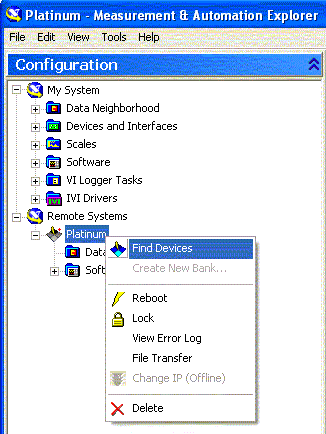 Solución:

En Max MAX presiona, "Find Devices." Esto va a descargar en forma automática la información del modulo, generar el archivo MIS, y registrarlo en el sistema operativo. Si esto no resuelve el problema verifique que tenga privilegios suficientes en la computadora para acceder al registro. SI el usuario no tiene este privilegio el utilizar "Find Devices" no puede registrar el archivo MIS, por lo que continuará recibiendo el error. Acceso como Administrador y vuelva ejecutar el de "Find Devices" otra vez.
Ligas Relacionadas:
KnowledgeBase 1RFEMJM6: How Do I Deal with Error 32812 from FP Create Tag VI?
KnowledgeBase 2QLDCHDJ: Using 'All' Item Name with Dual Channel Modules
KnowledgeBase 2MJCC6TJ: How Can I Add a FieldPoint Device to my .iak File Without Having the Device Connected?
Archivos Adjuntos:
- MAXfindDevices.gif

Día del Reporte:
03/11/2005
Última Actualización:
04/17/2008
Identificación del Documento:
3JA8JPPH