Moviendo VIs a una Carpeta Distinta Dentro de un Proyecto de LabVIEW
Hardware:
PXI/CompactPCI>>Controllers
Problema:
Me gustaría mover los VIs de mi proyecto de LabVIEW a una carpeta distinta de Windows. Pero al arrastrar los VIs a una carpeta nueva, en el proyecto recibo la siguiente advertencia:

¿Hay alguna manera de mover mis VIs en LabVIEW?

Solución:
Para evitar esta advertencia, debe abrir el Proyecto de LabVIEW y seleccione la pestaña Files. La siguiente estructura de árbol muestra la localización de los VIs en el proyecto: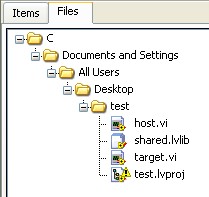 Figura 1. Estructura de árbol de un Proyecto de LabVIEW


Si desea mover el VI a un directorio específico, arrastre y suelte el VI hacia la carpeta. Para utilizar una carpeta diferente o dirección de un disco, de Clic Derecho sobre el VI y seleccione Move on Disk… Esto moverá los VIs al directorio que usted específico y mantendrá los vínculos dentro del proyecto.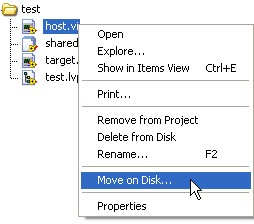 Figura 2. Dar Clic Derecho en el VI y seleccionar Move on Disk

Nota:
Si ya reubico los VIs en su proyecto, hay tres métodos para redirigirlos al proyecto. El primero es dando Clic Derecho en el VI faltante, y seleccionar
Replace with...
o seleccionar
Browse...
y después abrir el VI para seleccionar el directorio donde se localiza el archivo. El segundo es modificando el
VI Search Path
en el menu
Tools»Options»Paths
, esto es para buscar los VIs faltantes en distintos directorios. Para mayor información consulte
8.6 Help: Adding a Directory to VI Search Path
. Finalmente, siga los siguientes pasos para utilizar un editor de texto para modificar la busqueda de direcciones que se utiliza en LabVIEW Project.
Abrir el archivo

*.lvproj

en un editor de texto, por ejemplo Notepad


En el proyecto, cada VI y SubVI estaran incluidos en líneas de lecturas:


<Item Name="sunombre.vi" Type="VI" URL="../sunombre.vi"/>




Para tener una vista del proyecto para su VI en la misma carpeta, el URL deberá ser: URL="../sunombre.vi"


Para ver en una carpeta previa, el URL deberá ser: URL="../../sunombre.vi".
Nota: Para cada subsecuente ../ verá atrás en cada carpeta adicional


Para ver en una carpeta el archivo

*.lvproj

, el el URL deberá ser:

URL="../VIs/sunombre.vi"




Para usar una dirección absoluta, el URL deberá comenzar con una diagonal (/) y con cada disco o carpeta, y tener otra diagonal después de este, tal como:

URL="/C/Documents and Settings/All Users/yourname.vi".



Ligas Relacionadas:
KnowledgeBase 3U0GOJXL: How Can I Transport My LabVIEW 8.0 Project to Other Machines?
Archivos Adjuntos:
Día del Reporte:
01/06/2009
Última Actualización:
04/28/2009
Identificación del Documento:
4T5DF8J4