Error -63195 Mientras se Ejecuta el VI de FPGA en Modo Interactivo
Hardware:
CompactRIO
Problema:
Tengo un sistema CompactRIO y estoy tratando de ejecutar un VI de FPGA en modo interactivo, dando clic sobre el botón de
Run
del VI. Aparentemente el VI se compila y descarga exitosamente, pero tan pronto como se ejecuta aparece el siguiente mensaje de error:
Target Specific Error Encountered
A driver for the target returned the following error. Consult the LabVIEW Help database or the target documentation for the help in resolving the issue.
Error Code: -63195
NI-RIO FPGA Communications Framework: (Hex 0xFFF0925) The handle for device communication is invalid.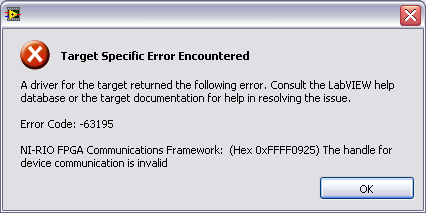 ¿Por qué estoy obteniendo este mensaje de error? ¿Cómo puedo solucionarlo?
Solución:
Este error puede ocurrir si LabVIEW cierra automáticamente la sesión de VISA, que fue creada para comunicarse con el Backplane FPGA del Sistema CompactRIO.
Para prevenir esto, debe abrir la ventana de
Herramientas » Opciones
, seleccionar la categoría de
Environment
, y deshabilitar el recuadro
Automatically Close VISA Sessions.
Ligas Relacionadas:
Archivos Adjuntos:
- cRIO-Error 63195.png

Día del Reporte:
12/11/2006
Última Actualización:
05/20/2009
Identificación del Documento:
44AF6D45