为什么在执行模拟参考触发时发生错误-200264?
硬件:
Multifunction DAQ (MIO)
问题:
我试使用模拟参考触发,发生以下错误。
Error -200264 occurred at DAQmx Start Task.vi
Device supports an analog channel as the source of an analog reference trigger only when it is the only channel in the task.
Remove all of the channels currently in the task except the channel that will be used as the analog trigger source, or change the analog trigger source to a terminal.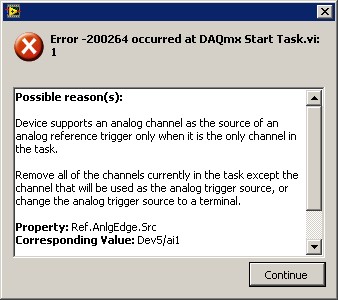 解答:
如果你需要多通道的触发前采样,你不能使用AI通道作为参考触发源之一。您必须使用PFI0(仅E系列)或APFI0/APFI1(仅M和X系列)作为触发源。这些独立的输入会通过模拟比较电路被连续监控。
请记住,您可以将同一信号同时连接至PFI0(或APF0/APFI1)和模拟输入通道。这样做可以使你的其中一路信号作为触发源(通过PFI线)同时通过另一个通道(通过AI<0 .. X>)进行触发前采样。欲了解更多有关建立模拟参考触发的信息,请参阅设备各自的用户手册。
发生此错误的原因说明:
任务中具有一个通道以上是不允许的,因为在使用多路复用卡(具有多个模拟输入通道但只有一个模拟至数字转换器)是不可能在超过一个通道获取触发前采样的。
不可以在超过一个通道获取触发前采样的原因是,多个通道间进行切换所用的时间有可能足够长,以至于触发信号没有被第一通道检测到。例如,如果触发信号进入ai0,但是卡仍然在其他通道进行切换以至于不能检测到触发信号。所以DAQmx不允许在任务中有超过一个的通道数量。这样做的目的是保证它可以连续的检测正确的模拟输入触发。
相关链接:
Knowledgebase 4T6CSHQX: What Analog Channels Can I Trigger Off Of?

Knowledgebase 3GU8OCFQ: What Are The Differences Between a PFI Line and an APFI Line?
Knowledgebase 2W3D230T: E Series and M Series Analog Input Trigger Resolution
Knowledgebase 306DE574: What Is the Difference Between an Analog and Digital Trigger?
Product Manuals: X Series User Manual
(June 2009)
Product Manuals: M Series User Manual
(July 2008)
Product Manuals: E Series User Manual
(February 2007)
附件:
报告日期:
02/13/2006
最近更新:
06/13/2013
文档编号:
3UCB1SKG