¿Puedo Usar Controles Personalizados (Custom Controls) en el Módulo de LabVIEW PDA o Touch Panel?
Software Primario:
Versión de Software Primario:
8.2
Versión de Software Primario Corregido:
N/A
Software Secundario:
N/A
Problema:
Si he creado un control personalizado, ¿trabajará este control en el módulo de LabVIEW PDA o Touch Panel?
Solución:
Los controles personalizados funcionan en LabVIEW PDA. Sin embargo, cualquier personalización acerca del control no se verá reflejada cuando el VI sea desplegado. Por ejemplo, el control personalizado ( ver anexo PDACustom.ctl) es creado de la siguiente manera:
Colocando un control booleano tipo LED en el Panel Frontal.
Hacer clic derecho y seleccionar Advanced>>Customize…
Colocar una Caja Horizontal Resaltada (Horizontal Raised Box) detrás del control.
Guardar el control y seleccionar remplazar el control actual.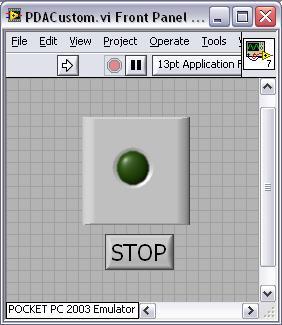 Una vez que el control ha sido creado y desplegado, el VI tendrá la funcionalidad del control (LED booleano). Sin embargo, la decoración no aparecerá, como se muestra en el emulador de Pocket PC.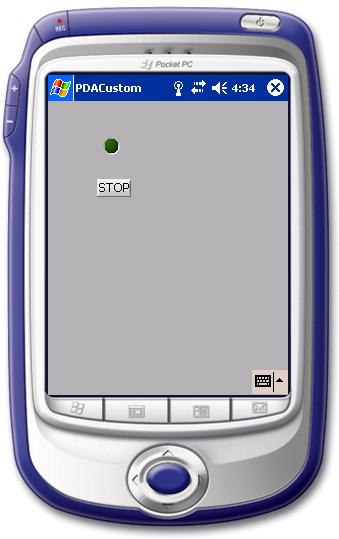 Ligas Relacionadas:
Knowledge Base 39BBPK2Q: Why Can't I Edit the Controls in My PDA VI?
Products and Services: What Is the LabVIEW PDA Module?
Product Manuals: Getting Started with the LabVIEW PDA Module for Windows Mobile (July 2006)
LabVIEW 8.2 PDA Module Help
Archivos Adjuntos:
- PDACustomVI.PNG
- PDACustomEmulator.PNG
- PDACustom.ctl
- PDACustomVI.JPG
- PDACustomEmulator.JPG
Día del Reporte:
03/31/2006
Última Actualización:
08/19/2008
Identificación del Documento:
3VUF8467