Error al Acceder a las Propiedades de un Dispositivo Serial Usando un Adaptador USB a Serial
Software Primario:
Versión de Software Primario:
4.1
Versión de Software Primario Corregido:
N/A
Software Secundario:
Driver Software>>NI-VISA
Hardware:
Instrument Connectivity Other>>USB>>USB-232/2
Problema:
Estoy usando un dispositivo serial con un adaptador USB a serial, ambos son dispositivos de terceros. Soy capaz de configurar y comunicarme con ellos vía HyperTerminal, pero cuando lo estoy probando en Measurment and Automation Explorer (MAX) no puedo cambiar configuraciones como la velocidad de transmisión o el bit de paridad, El error recibido es el 0xBFFF0072. ¿Por qué es provocado este error?
Solución:
Cuando se utiliza un adaptador USB a serial, un puerto virtual COM es creado, debido a que el dispositivo es de terceros, no todas las funciones de NI-VISA son soportadas. Si usted necesita cambiar las propiedades de comunicación intente utilizando un nodo de propiedad de instrumento (Instrument Property Node en Inglés), a través de los siguientes pasos:
Cree una constante de puerto COM arrastrando la interfase del dispositivo serial (ejemplo: COM1) encontrado en Devices and Interfaces en NI MAX, al diagrama de bloques de LabVIEW.
Dé click derecho sobre la constante del puerto COM y selecione Create»Property for Instr. Class Serial Settings. Después seleccione la propiedad del puerto serial que desea configurar. Por ejemplo, la velocidad de transmisión se selecciona dándole click derecho y escogiendoSelect Property»Serial Settings»Baud Rate.
Haga click derecho sobre el nodo de propiedad y seleccione Change All to Write. Cablee el valor deseado a la propiedad que desea modificar.
Coloque el nodo de propiedad al principio de su programa, antes de cualquier escritura o lectura del puerto.

La siguiente porción de código (VI Snippet) demuestra cómo usar un nodo de propiedad de instrumento: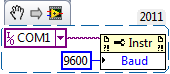 Si este procedimiento no funciona en su caso, es recomendable que considere utilizar un adaptador USB a serial de National Instruments, que no posee las limitaciones de los dispositivos fabricados por terceros.
Ligas Relacionadas:

Productos y Servicios: NI USB-232
Documento de Soporte 3ZC9A3DW: Utilizando Puertos Virtuales COM o Adaptadores de Terceros USB-a-Serial con VISA en MAX

Documento de Soporte 5W8DS21O: I Can Not Find my Third Party USB Device in Measurement & Automation Explorer (MAX) but I can see it under Device Manager (En Inglés)
Archivos Adjuntos:
Día del Reporte:
11/20/2015
Última Actualización:
01/06/2016
Identificación del Documento:
4CQAAVL3