Las entradas analógicas de la tarjeta USB-6008/6009 leen aproximadamente -1.4V de Offset con la conexión RSE.
Hardware:
Multifunction DAQ (MIO)>>Portable>>USB-6008, Multifunction DAQ (MIO)>>Portable>>USB-6009
Problema:
Tengo cableada mi señal externa a mi USB-6008/6009 en una terminal de entrada (específicamente AI X) y a la terminal GND. Esto se conoce como una configuración Referenced-Single-Ended (RSE). Estoy leyendo un offset consistente de aproximadamente -1.4V. ¿Por qué pasa esto?
Solución:
Este problema a menudo se deriva del hecho de que la creación de un canal NI-DAQmx establece un modo predeterminado a la configuración de la terminal de entrada.
Cuando usted usa la configuración referenced-single-ended (RSE) debe especificar explícitamente la configuración de la terminal de entrada como RSE en el DAQ Assistant o en la entrada input terminal configuration del VI DAQmx Create Channel.
Figura 1. Configuración RSE en DAQ Assistant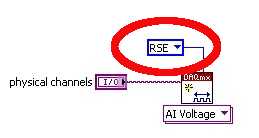 Figura 2. Configuración RSE
Si usted deja la terminal de configuración sin especificar, la operación utilizará el modo diferencial de manera predeterminada. Las terminales de la tarjeta USB-6008/6009 están flotadas aproximadamente 1.4V, asi que las lecturas de voltaje, con la conexión física RSE y el modo predeterminado (diferencial) especificado en software, estarán sesgadas aproximadamente 1.4V. Para mayor información consulte la sección de ligas relacionadas.
Ligas Relacionadas:
KnowledgeBase 3QQBGL0Q: Explanation of the Analog Input Circuitry on the 6008/6009
KnowledgeBase 3LUM2RNK: Analog Input of 6008/9 Reads 1.4V in RSE Mode when no Signal is Connected
KnowledgeBase 4HEGDOMV: Why Does My USB 6008/6009 Have Different Resolutions for Differential and Single-Ended Measurements?
Product Manuals: NI USB-6008/6009 User Guide and Specifications
Archivos Adjuntos:
Día del Reporte:
11/18/2005
Última Actualización:
04/21/2009
Identificación del Documento:
3RH97BRM