Para los módulos Ethernet (FP-160x, cFP-180x y [c]FP-2xxx) el FP Read.vi de hecho está leyendo datos locales en el caché. Cualquier instancia del FP Read.vi regresará casi de manera instantánea, sin importar el estado actual del banco del FieldPoint. Existe la posibilidad de que la aplicación no espera lo suficiente como para encontrar la dirección IP del FieldPoint.
El tiempo de conexión (Connect Timeout) configurado en Measurement and Automation Explorer (MAX) especifica el tiempo de espera que el servidor del FieldPoint utiliza antes de reportar un error en la conexión. Si este tiempo se establece demasiado bajo, es posible que no espere lo suficiente como para encontrar el dispositivo FieldPoint en la dirección IP dada y por lo tanto regresa el Error: 33162 Unable to connect to the data ítem on the module.
Para resolver este problema, incremente el tiempo de espera (Connect Timeout) configurado en MAX. Aquí están los pasos para incrementar este valor:
1. Abra Measurement & Automation Explorer (Start»Program Files»National Instruments»Measurement and Automation)
2. De un clic derecho sobre el nombre del controlador debajo de Remote Systems y seleccione Find Devices.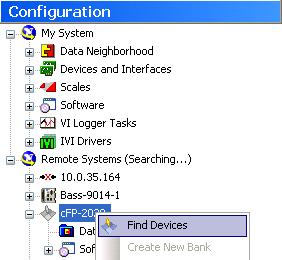 3. De un clic derecho sobre el nombre del dispositivo una vez más y seleccione Communication Timeout Settings.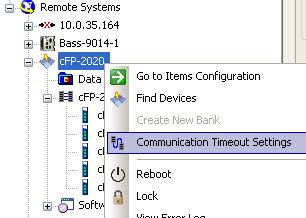 4. Establezca el valor deseado para Connect Timeout en mili segundos (ms) y de un clic en Apply.
5. Seleccione el archivo .iak y de clic el botón Save como se muestra a continuación.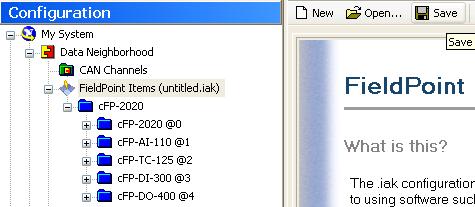 6. Ejecute su programa.