Compatibilidad del Hardware de Adquisición de datos con NI VeriStand
Software Primario:
Versión de Software Primario:
2009
Versión de Software Primario Corregido:
N/A
Software Secundario:
N/A
Hardware:
Digital I/O (DIO), Multifunction DAQ (MIO)
Problema:
¿Qué Hardware de adquisición de datos (DAQ) puedo utilizar con NI VeriStand?
Solución:
Usted puede utilizar una variedad de productos de adqusición de datos
(DAQ)
(PCI, PCIe, PXI, PXIe) para realizar tareas de entrada analógica, salida analógica y E/S digital en NI VeriStand. Para utilizar entrada o salida analógica, las tarjetas que vaya a utilizar requieren soportar Modo de muestreo de un punto simple temporizado por hardware (
Hardware-Timed Single Point Sampling Mode
). Si el Hardware no soporta esta característica, puede desactivarla para este dispositivo en el explorador del sistema
(System Explorer).
Deshabilitar esta característica incrementará el tiempo de adquisición y disminuirá la velocidad máxima del ciclo.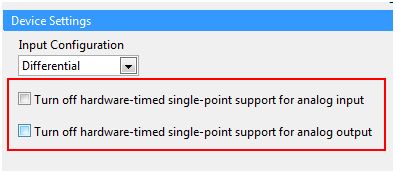 E/S Digitales sólo está soportado para E/S estáticas, es decir, no está soportado para generación de onda ni para adquisición. Por consiguiente, las E/S Digitales no pueden ser sincronizadas con las Entradas y Salidas Analógicas. La mayoría de las tarjetas de E/S Digitales están soportadas.
Nota: El hardware está soportado de manera nativa únicamente cuando se está ejecutando NI VeriStand en LabVIEW sobre un controlador en Tiempo Real.
Ligas Relacionadas:
Products and Services: NI VeriStand
Products and Services: Digital IO
KnowledgeBase 4TRGNVH7: Does My DAQ Device Support Hardware-Timed Single Point Sampling Mode?