Transferir Configuraciones de MAX a la Memoria Flash de un Motion Controller
Hardware:
PXI/CompactPCI>>Controllers
Problema:
¿Existe alguna manera de transferir las
configuraciones de un motion controller
que yo especifico en el
Meassurement Automation Explorer (MAX)
a la memoria flash en la tarjeta para que la próxima vez que se encienda lo haga en un estado específico? O, ¿Que realiza la opción
Save Initialization Settings as Controller Defaults
cuando se selecciona?
Solución:
Por defecto el Motion Controller se enciende con las configuraciones de fábrica. La más relevante de estas configuraciones es que la dirección inicial y estado de las líneas DIO (como entradas o salidas) en los programas del controlador corren antes de que el controlador sea inicializado.
Si simplemente se especifican las nuevas configuraciones y luego se inicializa el controlador, no se cambian las configuraciones de encendido por defecto. Para cambiarlas es necesario transferir las configuraciones de inicialización actuales especificadas en MAX a la memoria flash de la tarjeta motion controller. La siguiente vez que se encienda, la motion controller va a iniciar con esas nuevas configuraciones pre-cargadas.
Siga las instrucciones a continuación para transferir las configuraciones de inicialización a la memoria flash de su tarjeta.
En MAX especifique y salve todas las configuraciones para su Motion Controller con las que quiera que su controlador inicie, incluyendo la polaridad de las líneas I/O.

De click derecho sobre su motion controller listado bajo la sección Devices and Interfaces y del menú emergente seleccione Save Initialization Settings as Controller Defaults para descargar las configuraciones a la memoria flash de su tarjeta motion controller.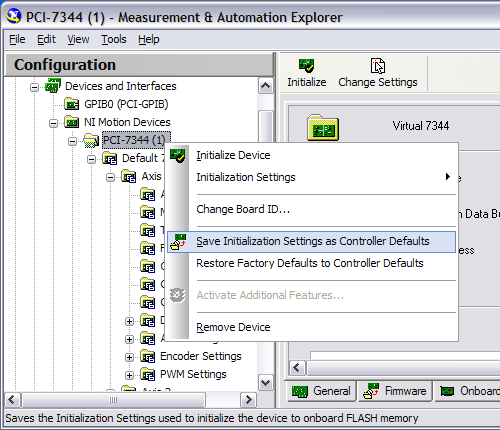 Después de haber descargado las configuraciones a la memoria flash de su tarjeta, el Motion Controller va a iniciar con las configuraciones previamente cargadas (Nota: Va a existir un ligero retraso después de que el controlador se encienda antes de que las configuraciones se lean desde la memoria flash).
Usualmente inicializar el controlador es todo lo que se necesita hacer para operar el controlador posteriormente. En algunos casos es posible que tenga que limpiarse el estado de reinicio al encendido (power up reset state) de su controlador antes de utilizarlo en su aplicación. En LabVIEW se puede limpiar este estado utilizando el VI Clear Power Up Status que se encuentra en la paleta NI-Motion>>Advanced.
En las versiones previas del controlador de NI-Motion la configuración Transfer Current Initialization puede aparecer como Save Initialization Settings to FLASH.
Ligas Relacionadas:
KnowledgeBase 2I0E1CZO: Initializing a Motion Controller with LabVIEW Using MAX Configuration Parameters (inglés)
KnowledgeBase 2T9GT4YY: How do I Export/Import My Motion Controller Configuration Settings from MAX? (inglés)
Archivos Adjuntos:
- FLASH.JPG
Día del Reporte:
05/11/2005
Última Actualización:
02/12/2009
Identificación del Documento:
3LA73JPS