¿Cómo Configurar el Rango de Amplitud por Canal en mi Digitalizador?
Hardware:
PXI/CompactPCI>>Controllers
Problema:
Tengo un dispositivo NI-SCOPE y me gustaría ajustar el rango de amplitud de cada canal a valores distintos, mi problema es que al usar "niScope Configure Vertical VI" para configurar el rango de amplitud, el mismo valor es aplicado en ambos canales.
Solución:
El rango de amplitud en ambos canales puede ser configurado con múltiples instancias de niScope Configure Vertical VI ó utilizando nodos de propiedad (property node). Cada instancia de la función utilizada para configurar el rango de amplitud tiene una entrada para el canal, canal activo (Active Channel), esta entrada determina a que canal aplicar el valor del rango de amplitud. Como ejemplo la figura 1 muestra como configurar "canal 0" para un rango de 1 voltio pico a pico y "canal 2" para un rango de 10voltios pico a pico.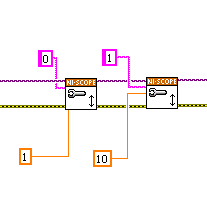 figura 1.
El mismo efecto puede ser logrado utilizando los nodos de propiedad, la figura 2 muestra como se puede lograr con este método.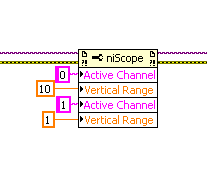 figura 2.
Ligas Relacionadas:

KnowledgeBase 1YTDID4U: What Are the Valid Vertical Input Range Settings for the NI 5112 Digital Oscilloscope?
KnowledgeBase 42AJ3HJQ: Simple Troubleshooting Steps to Improve Scope Accuracy
Developer Zone Example Program: Different Vertical Settings on Two Channels with NI-SCOPE
Archivos Adjuntos:
Día del Reporte:
01/15/2008
Última Actualización:
03/04/2009
Identificación del Documento:
4HEA3MD2