¿Qué es el Rango Dinámico Libre de Espurios (SFDR)?
Hardware:
Multifunction DAQ (MIO)
Problema:
¿Qué es Rango Dinámico Libre de Espurios (SFDR)?
Solución:
El Rango Dinámico Libre de Espurios (SFDR) es una especificación de suma importancia que permite caracterizar el desempeño dinámico de un generador de señales. El SFDR describe la relación entre la amplitud de la frecuencia fundamental generada y la amplitud de la armónica más prominente. En un mundo ideal, en el dominio de la frecuencia de una señal analógica pura toda la potencia está concentrada en la frecuencia deseada. Sin embargo, debido al ruido y la no linealidad de los componentes, incluso el mejor generador de señales también genera componentes armónicas (o múltiplos) del tono deseado.
Por ejemplo, cuando se genera una señal sinusoidal a 10 MHz, es posible observar componentes armónicas a 20 MHz, 30 MHz, y así sucesivamente. Dichas armónicas también son conocidas como espurias.
El rango dinámico entre el tono fundamental y la mayor espuria es conocido como Rango Dinámico Libre de Espurios (SFDR). El SFDR es la medida de la razón entre la señal fundamental y la mayor espuria (relacionada tanto de manera armónica como no armónica) ubicada entre DC y la mitad de la frecuencia de muestreo. Es posible calcular dicho valor de manera visual al observar el siguiente gráfico.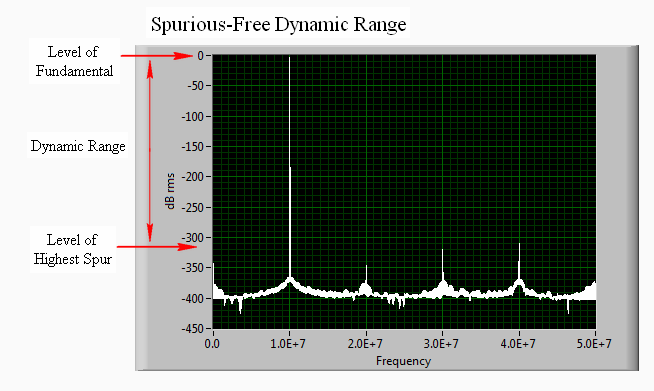 Para medir el SFDR de un generador de señales, se genera un tono a una frecuencia dada. Posteriormente se utiliza un analizador de espectros para medir la amplitud del tono fundamental y la amplitud del siguiente tono mayor. Típicamente, la espuria corresponde a una de las armónicas.
Una manera sencilla de calcular el SFDR consiste en utilizar decibeles, tal y como se muestra a continuación:

En el gráfico anterior puede verse que la tercera armónica corresponde a la espuria con mayor amplitud y el SFDR es aproximadamente 310dBc. Ahora bien, con fines comparativos supongamos que el SFDR de una señal es de 70dB, en dicho caso, la amplitud de las espurias sería siempre menor a 0.0003162 veces la amplitud de la frecuencia fundamental.
Por otra parte, el cálculo del SFDR a partir de los valores de tensión RMS se realiza con la siguiente ecuación:

En aplicaciones que requieran una sinusoidal limpia, es importante que el generador de señales tenga un buen desempeño de SFDR. Por ejemplo, considere la caracterización del convertidor-analógico-digital (ADC) que se muestra a continuación.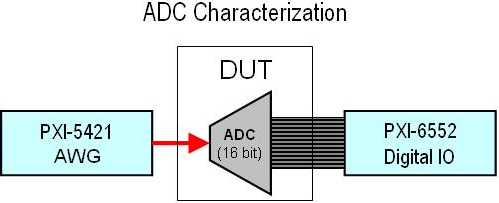 Para la caracterización de un ADC es importante medir las imperfecciones armónicas del mismo. Por lo tanto, es crucial que el estímulo recibido por el dispositivo bajo prueba sea tan espectrálmente puro como sea posible.
Ligas Relacionadas:
KnowledgeBase ID 2MRIMPJT: What is the noise floor and how do you measure noise floor for the dynamic signal acquisition & analyzer (DSA) boards?
KnowledgeBase ID 4X31Q728: How Do I measure the Dynamic Range of My Data Acquisition Device?
White Paper: Dynamic Signal Acquisition Fundamentals
White Paper: Signal-to-Noise Ratio
Archivos Adjuntos:
Día del Reporte:
11/24/2014
Última Actualización:
12/01/2014
Identificación del Documento:
2N8D0BN5