Errores al Descargar una Aplicación que Utiliza el Sound and Vibration Toolkit en un cRIO
Hardware:
CompactRIO>>Controllers>>cRIO-9012
Problema:
Realicé una aplicación para análisis de orden y cuando trato de descargarla a mi dispositivo obtengo alguno de los siguientes errores durante la descarga:
Failed to Download OAT Frecuency Shift (Mixer).vi
o
Labview:Failed to load shared Library Order.Out: OatFreqShiftH:E on ET target device

.


Solución:
Estos errores son causados porque el software para el Sound and Vibration Toolkit no se encuentra instalado en el dispositivo. Para corregir estos errores:
Abra el Measurement and Automation Explorer (NI MAX).
Expanda la sección Remote Systems.
De clic en el signo de más al lado de su dispositivo.
De clic derecho sobre la sección Software y seleccione Add/Remove Software.
En el cuadro de diálogo de selección de características asegúrese de incluir el Sound and Vibration Toolkit.
Siga los pasos del instalador hasta terminar la instalación.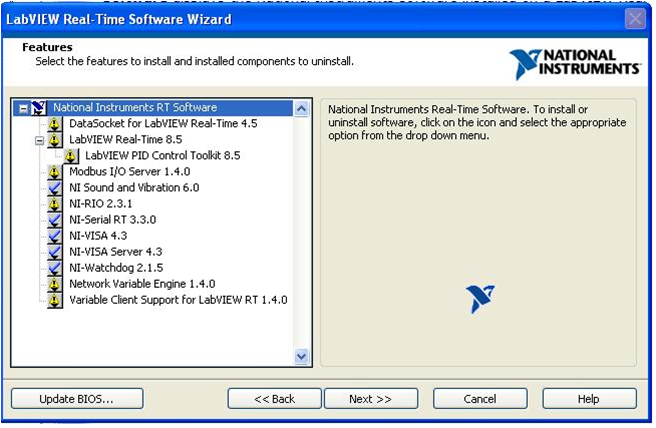 Después de instalar el software de Sound and Vibration descargue la aplicación de nuevo; los errores deben de haber desaparecido.
Ligas Relacionadas:
DeveloperZone Tutorial: 10 Questions to Ask When Selecting Your Sound and Vibration Measurement System
DeveloperZone Tutorial: Sound and Vibration Measurements: How-To Guide
LabVIEW Help: LabVIEW Toolkits Overview
Product Manual: Sound and Vibration VIs
Archivos Adjuntos:
Día del Reporte:
05/26/2008
Última Actualización:
02/05/2015
Identificación del Documento:
4LPD53YN