Dimensiones de Unidades Flash de Estado Sólido Usadas en Controladores Embebidos PXI
Hardware:
PXI/CompactPCI>>Controllers
Problema:
¿Cuáles son las dimensiones de las unidades flash de estado sólido que National Instruments vende con sus controladores embebidos PXI?
Solución:
A partir del 3/3/2009, National Instruments vende una unidad flash de estado sólido (SSD) de 32 GB de 2.5 pulgadas para los controladores PXI RT con Windows. El disco duro tiene un grosor de 0.236 pulgadas [5.99 mm] y un ancho de 2.750 pulgadas [69.85 mm]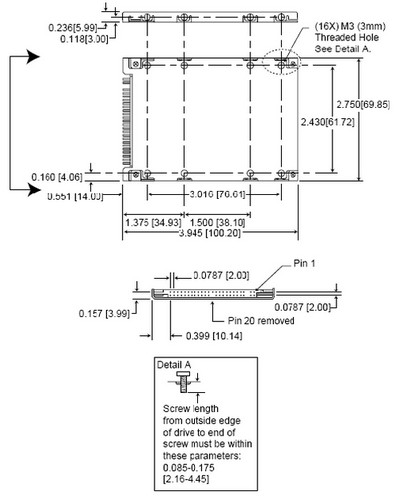 Ligas Relacionadas:
Developer Zone Tutorial: Advantages of Solid State Drives (SSD) in PXI Systems

Knowledgebase 23DDKSV7: What Kind of Hard Drive is in My PXI Controller?
Archivos Adjuntos:
- Solid-state dimensions.bmp

Día del Reporte:
04/26/2005
Última Actualización:
06/15/2009
Identificación del Documento:
3KPAAJ0M