¿Los VIs de Visión RT son Determinísticos?
Software Primario:
Versión de Software Primario:
N/A
Versión de Software Primario Corregido:
N/A
Software Secundario:
N/A
Problema:
¿Hay alguna manera de garantizar el determinísmo al utilizar el Módulo de Desarrollo de Visión con LabVIEW Real-Time? ¿Es posible establecer un tiempo de espera (timeout) en VI de visión?
Solución:
Los VIs de visión no son determinísticos debido a que su tiempo de ejecución depende de ambos, el tamaño y el contenido de la imagen. Sin embargo, existen varias herramientas para trabajar con visión en Real-Time. Hay una paleta para visión RT en
Functions Palette » Vision and Motion » Vision Utilities » Vision RT
. Sin el modulo de LabVIEW Real Time esta paleta incluye 3 VIs solamente, como se muestra a continuación:
Con LabVIEW Real Time instalado, se incluyen otros 5 VIs adicionales, como se muestra a continuación: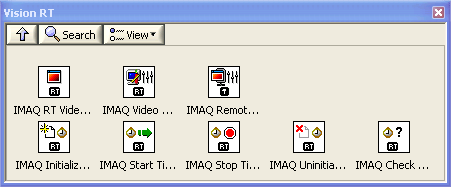 Estos VIs pueden ser utilizados para controlar el tiempo de ejecución de los VIs del Vision Development Module. Usted puede configurar un timeout para solo uno ó para un grupo específico de VIs de Vision. Existen ejemplos para entender mejor como funcionan estos VIs en
<LabVIEW>\examples\Vision\4. Real-Time
.
NOTE:
No todos los VIs de visión tienen una opción de temporización configurable. Debe de usar los VIs de
<LabVIEW>\vi.lib\vision\Preallocated.llb
para poder configurar tiempos de espera a sus VIs.
Ligas Relacionadas:
KnowledgeBase 2JAED68M: What Do I Need for Running IMAQ Vision and IMAQ 2.6 (or Earlier) on LabVIEW RT?
Developer Zone Tutorial: Machine Vision Systems with LabVIEW Real-Time
Archivos Adjuntos:
Día del Reporte:
06/02/2015
Última Actualización:
06/10/2015
Identificación del Documento:
4EQDJHP9