¿Por Qué Obtengo el Error 'This VI is Not Executable' Cuando Ejecuto mi Ejecutable?
Software Primario:
Versión de Software Primario:
8.2
Versión de Software Primario Corregido:
N/A
Software Secundario:
N/A
Problema:
Tengo un ejecutable construído en LabVIEW que se ejecuta en algunas máquinas con Windows, pero no en otras. Cuando intento ejecutar el ejecutable, recibo el error This VI is not executable. The full development version of LabVIEW is required to fix the errors; tal y como se muestra a continuación: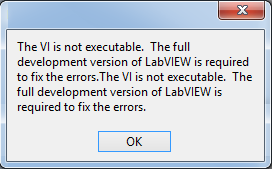 He instalado la versión correcta del LabVIEW Run-Time Engine y todos los controladores necesarios. ¿Cuál es la causa del error?
Solución:
Con frecuencia, el error es ocasionado por tener una versión no actualizada del .NET framework en la máquina destino. Para resolver el problema, usted debe actualizar el .NET framework hasta, al menos, la versión instalada en la máquina de desarrollo. Usted puede verificar las diferentes versiones de .NET instaladas en Windows al seguir los siguientes pasos:
Presione Inicio » Ejecutar (como alternativa puede presionar las teclas Windows + R)

Digite regedit en la ventana de diálogo Ejecutar.

En el Editor de Registros, navegue a HKEY_LOCAL_MACHINE » SOFTWARE » Microsoft » .NET Framework para ver todas las versiones del .NET Framework.
Puede descargar la versión más reciente del .NET framework desde el sitio web de Microsoft.
Ligas Relacionadas:
LabVIEW 2013 Help: Requirements for Using .NET Assemblies in LabVIEW

Archivos Adjuntos:
Día del Reporte:
11/05/2008
Última Actualización:
05/01/2014
Identificación del Documento:
4R4GA1FS