Mis VIs IMAQ Trigger no Funcionan con la PCI-1408 o PXI-1408
Hardware:
Image Acquisition (IMAQ)>>Analog Image Devices>>PCI-1408
Problema:
Cuando trato de correr un programa que utiliza el VI IMAQ Trigger con mi PCI/PXI-1408 obtengo el siguiente mensaje de error en el VI IMAQ Trigger:

Error -1074397126: NI-IMAQ: Hardware not capable of supporting this operation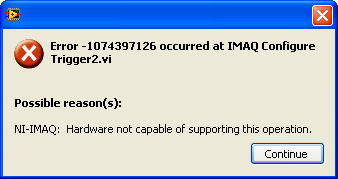 ¿Cómo puedo lograr que el programa corra con mi PCI/PXI-1408?
Solución:
Los cuatro VIs originales de IMAQ Trigger son IMAQ Configure Trigger, IMAQ Trigger Drive, IMAQ Trigger Read e IMAQ Trigger Route. Éstos VIs han sido reemplazados por versiones más actualizadas de los VIs de IMAQ Trigger, pero aún pueden ser accesados de ser necesario. Las versiones más actualizadas tienen un número agregado a sus nombres (2 o mayor) que indica la versión del VI. Por ejemplo IMAQ Configure Trigger.vi es el VI en su versión original e IMAQ Configure Trigger2.vi es la segunda versión. Las tarjetas PCI/PXI-1408 sólo soportan las versiones originales que no tienen ningún número agregado.
Para reemplazar un VI de IMAQ Trigger con una versión anterior del mismo:
De clic derecho en el VI.
Elija Replace » All Palettes » Select a VI...
Navegue hasta el directorio:

labview\vi.lib\vision\driver\

imaqsignalio.llb

.
Seleccione el VI de IMAQ Trigger que necesita.
Ligas Relacionadas:
KnowledgeBase 1I0JR0AM: What is a Convenient Way to Do Onboard Triggering with the PCI-1408 or PXI-1408?
KnowledgeBase 2MRCB58M: Triggering Limitations for IMAQ boards
Archivos Adjuntos:
Día del Reporte:
10/25/2006
Última Actualización:
11/09/2009
Identificación del Documento:
42OFMITI